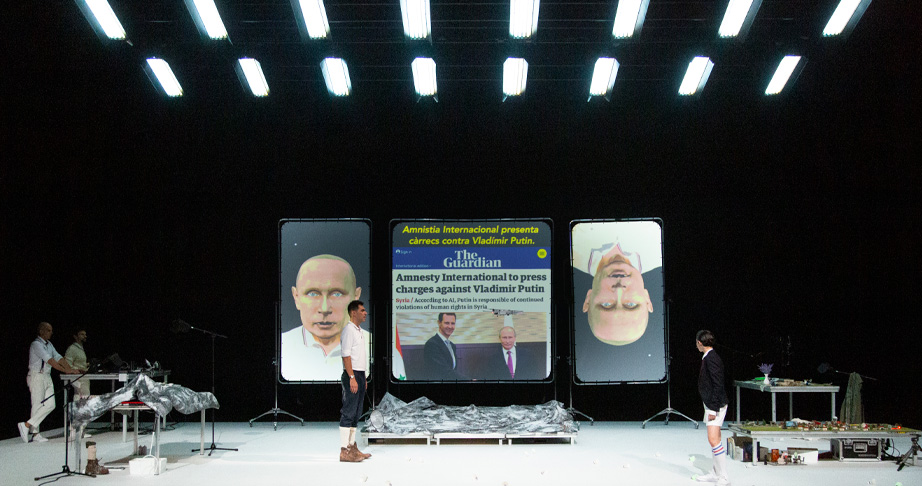 The Mountain
dramaturgy and direction Àlex Serrano, Pablo Palacios and Ferran Dordal
co. Agrupación Señor Serrano
##general.period##:

03/18/21 – 03/28/21

##general.room##:

Gràcia
Timetable
From Wednesday to Friday at 8:00 p.m.
Saturday at 5:00 p.m. and at 8:00 p.m.
Sunday at 6:00 p.m.
03/24 at 4:00 p.m.
Language
English with catalan subtitles
This play by Agrupación Señor Serrano, a group of experts in new theatre art, stages a combination of the first exhibition to Everest, the success of which is still uncertain today, with Orson Welles sowing panic in his radio programme The War of the Worlds, badminton players playing baseball, a fake news website, a drone monitoring the public, lots of snow, mock-ups, radio, mobile screens, fragmented images and Vladimir Putin giving a satisfied speech about trust and truth.

Teatre Barcelona Award to the Best hybrid scene proposal 2021.
The piece, an inquiry into the truth, the lie, the act and the simulacrum, was presented in a first version at the GREC'20 festival and returns to Libre once consolidated.

XXSS
@agrupacionsenorserrano
#TheMountainLliure
PERFORMERS
David Muñiz, Pau Palacios, Anna Pérez Moya/Blanca García Lladó (03/27 afternoon) and Àlex Serrano
SET AND MODELS
Lola Belles and Àlex Serrano
VIDEO PROGRAMME
David Muñiz
VIDEO CREATION
Jordi Soler Quintana
SETTING ASSISTANT
Mariona Signes
TECHNICAL DIRECTOR
David Muñiz
MANAGEMENT
Paula Sáenz de Viteri
MANAGEMENT DIRECTOR
Barbara Bloin
DISTRIBUTION
Art Republic
CO-PRODUCED BY
GREC Festival de Barcelona, Teatre Lliure, Centro de cultura contemporánea Condeduque, CSS Teatro Stabile di Innovazione del Friuli – Venezia Giulia, Teatro Stabile del Veneto – Teatro Nazionale, Zona K, Monty Kultuurfaktorij, Grand Theatre and Feikes Huis
SUPPORTED BY
Departament de Cultura de la Generalitat and Graner -Mercat de les Flors