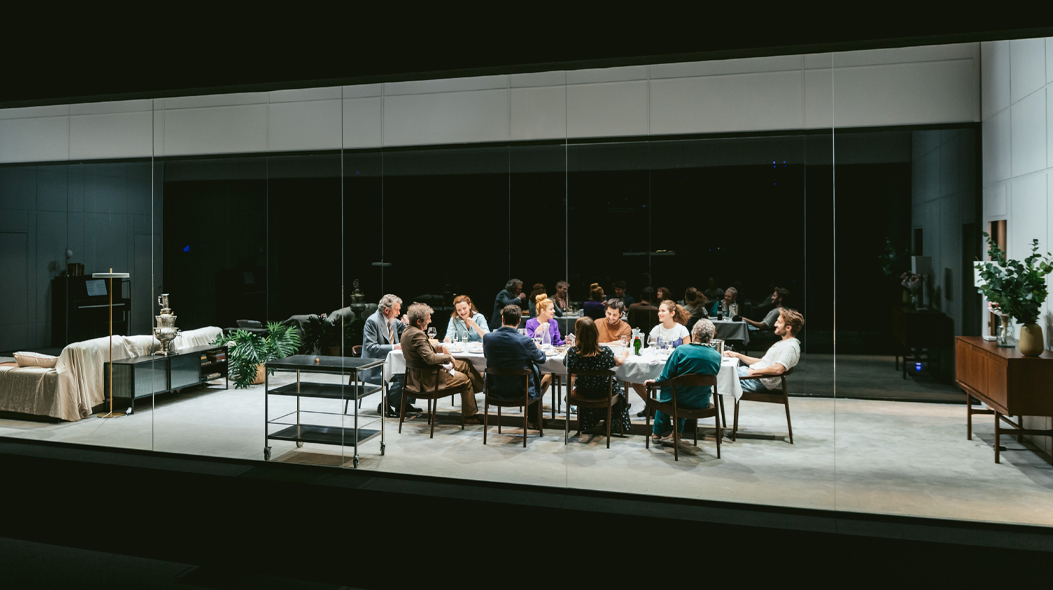 Les tres germanes
by Anton Chekhov
adaptation Marc Artigau, Cristina Genebat and Julio Manrique
direction Julio Manrique
##general.period##:

05/26 - 06/19/22

##general.room##:

Montjuïc. Sala Fabià Puigserver
Timetable
Wed. - Sat. 19:00
Sun. 18:00
Place
Sala Fabià Puigserver
Accessibility
Hearing assistance via mobile phone

Accessible Friday
05/27 and 06/17 audio description
06/03 and 06/10 adapted subtitles

Subtitled in Spanish and English languages on Saturday from 05/28
Debate
06/17 after the show

RECOMMENDED AGES
+ 15

PLAY RECOMMENDED BY THE EDUCATIONAL PROGRAM
Les tres germanes [The three sisters], directed by Julio Manrique, after the postponement of performances last season due to COVID. A reunion and a luxury.

The story tells of three sisters (Olga, Masha and Irina) and their brother (Andrei) in the unsatisfying, decadent life of the privileged classes in a supposed rural Russia. Moscow is the main symbolic element in the play, always idealised and yearned for by this characters, waiting closed in their bubble a new world that is just dawning.

"There is a response that in my opinion provides a very good explanation for a central idea in Chekhov's characters' anxious and desperate search for happiness: 'Why aren't we able to live a life at the level of the life we project? Or to project a life at the level of the life we live? Why do we punish ourselves like this?'" - Julio Manrique

Crítica Awards 2020 to the Best show, to the Character actress to Mireia Aixalà and to the Soundig space to Damien Bazin.
Max Awards 2021 to the Best theatre adaptation to Marc Artigau, Cristina Genebat and Julio Manrique, Best actress to Mireia Aixalà.
Butaca award 2021 to the Best supporting actor to Lluís Soler.
CAST
Mireia Aixalà Nathalie
Joan Amargós baron
Ivan Benet Ivan
Carme Fortuny Tata
Cristina Genebat Olga
Jordi Rico Victor
Marc Rius Andrei
Maria Rodríguez Masha
Lluís Soler uncle
Elena Tarrats Irina
PROJECTIONS
Francesc Isern
DIRECTOR ASSISTANT
Xavi Ricart
SETTING ASSISTANT
Mercè Lucchetti
COSTUMES ASSISTANT
Marta Pell
TRAINEE SETTING ASSISTANT FROM ITB
Alba Paituví
COSTUMES MADE BY
Goretti Puente and Joan Baseiria